Al Pastor
Al Pastor is a style of cooking pork that originates in Mexico City. It was introduced by Lebanese immigrants around 1950, based on the traditional Lebanese shawarma. Since then, it has become one of the most popular taco choices in Mexico. Our Al Pastor pork is marinated in our secret sauce for 24 hours, skewered slice-by-slice into an impressive 70lb cone shape, topped with half of a pineapple, then cooked on a vertical rotisserie. As the outside of the meat begins to cook, pineapple juice drips from the top, caramelizing on the meat just as we shave it off on to your tortilla. Drooling yet? We are! Al Pastor is our house specialty and a must-have on your first visit.
Pairs great with our Salsa Verde
Carne Asada
Carne Asada, literally translated to "grilled meat", can be found on almost every Mexican restaurant's menu. What sets us apart, however, is the cut and quality of the beef we use. While most establishments stick to the commonly used chuck steak which can be gristly and tough, our thin-sliced sirloin yields a flavorful, tender, never-chewy Carne Asada.
Pairs great with our Salsa Roja
Chicken
We use fresh, never frozen, all white meat chicken breast for our Chipotle chicken. We slow cook it with Chipotle peppers, tomatoes and onions. This delicious recipe yields a saucy and flavorful option for any Boni's entree.
Pairs great with our Salsa Roja
Chile Verde
Our chile verde starts off with lightly fried pork tips. Add in our famous Salsa Verde with a few extra spices, then slow simmered until the pork is perfectly tender.
Pairs great with our Salsa Roja
Veggie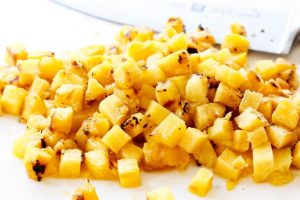 We wanted to offer our vegetarian fans something unique and delicious, so we got a little creative. Our famous Al Pastor is cooked on a vertical rotisserie that has a half pineapple sitting at the top. This pineapple doesn't actually touch the meat, but it does cook along with it and we shave off beautifully roasted chunks as it cooks. We also have several foil-wrapped, whole onions that cook in this same flame. We combine the roasted pineapple chunks with the onion for a veggie option unlike any other.
Pairs great with our Salsa Verde